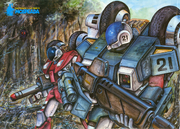 Welcome to the Mospeada Wiki
Edit
Genesis Climber MOSPEADA (機甲創世記モスピーダ Kikō Sōseiki Mosupīda?) (literally "Armored Genesis MOSPEADA") is an anime science fiction series created by Shinji Aramaki and Hideki Kakinuma. The 25-episode television series ran from late 1983 to early 1984 in Japan. MOSPEADA stands for Military Operation Soldier Protection Emergency Aviation Dive Armor, one of the transformable motorcycle-armors the series features. The other primary mecha featured in the show is the three-form transformable fighter called the Armo-Fighter AFC-01 Legioss.
Describe your topic
Edit
Write a description about your topic. Let your readers know what your topic is about and add some general information about it.
Latest activity
Edit
#2015YearOfMecha
Photos and videos are a great way to add visuals to your wiki. Find videos about your topic by exploring Wikia's Video Library.
Ad blocker interference detected!
Wikia is a free-to-use site that makes money from advertising. We have a modified experience for viewers using ad blockers

Wikia is not accessible if you've made further modifications. Remove the custom ad blocker rule(s) and the page will load as expected.